What's Ahead For The Housing Market?
As the housing market cools in response to the dramatic rise in mortgage rates, home price appreciation is cooling as well. And if you're following along with headlines in the media, you're probably seeing a wide range of opinions calling for everything from falling home prices to ongoing appreciation. But what's true? What's most likely to happen moving forward? While opinions differ, the most likely outcome is we'll fall somewhere in the middle of slight appreciation and slight depreciation.
It all depends on the conditions in your local market, like how overheated that market was in recent years, current inventory levels, buyer demand, and more.
The good news is home prices are expected to return to more normal levels of appreciation rather quickly. The latest forecast from Wells Fargo shows that, while they feel prices will fall in 2023, they think prices will recover and net positive in 2024. That forecast calls for a 3.1% appreciation in 2024, which is a number much more in line with the long-term average of 4% annual appreciation.
---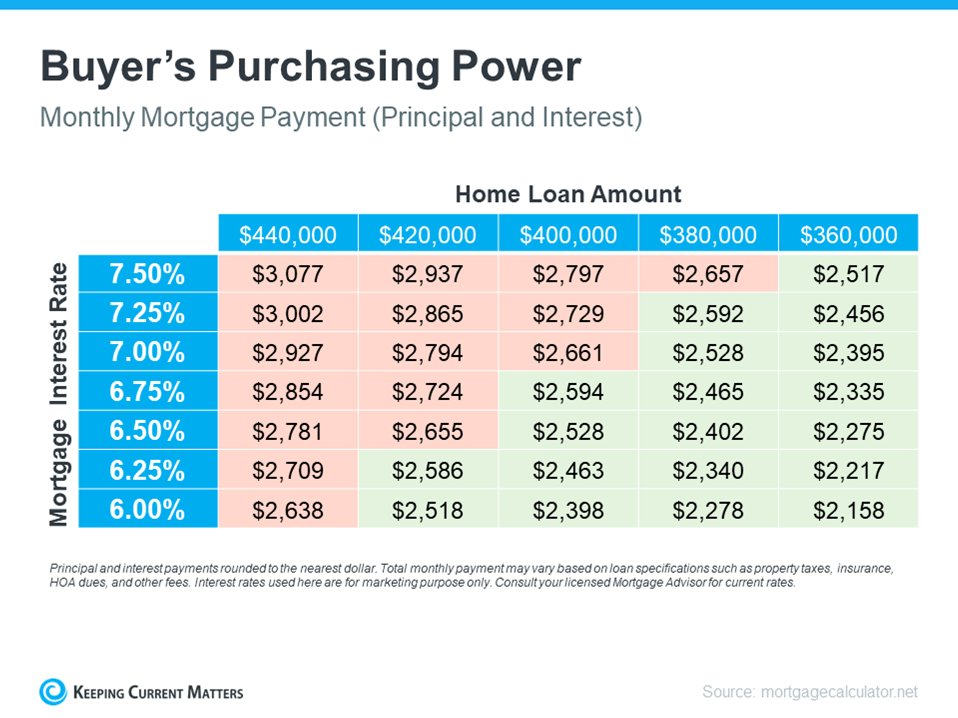 The Impact of Rising Mortgage Rates
As mortgage rates rise, they impact your purchasing power by raising the cost of buying a home and limiting how much you can comfortably afford. As the chart shows, as rates go up, the amount you can afford to borrow decreases and that may mean you have to look at homes at a different price point.
The rise in mortgage rates and the resulting decrease in purchasing power may leave you wondering if you should wait for rates to go down before making your purchase. Realtor.com says this about where rates could go from here:
"Many homebuyers likely winced . . . upon hearing that the Federal Reserve yet again boosted its short-term interest rates by three-quarters of a percentage point—a move that's pushing mortgage rates through the roof. And the already high rates are just going to get higher."
If you're considering renting as your alternative while you wait it out, remember that's going to get more expensive with time too. As Nadia Evangelou, Senior Economist and Director of Forecasting at the National Association of Realtors (NAR), says:
"There is no doubt that these higher rates hurt housing affordability. Nevertheless, apart from borrowing costs, rents additionally rose at their highest pace in nearly four decades."
Basically, it is true that it costs more to buy a home today than it did last year, but the same is true for renting. This means, either way, you're going to be paying more. The difference is, with homeownership, you're also gaining equity over time which will help grow your net worth. The question now becomes:
What makes more sense to you?
---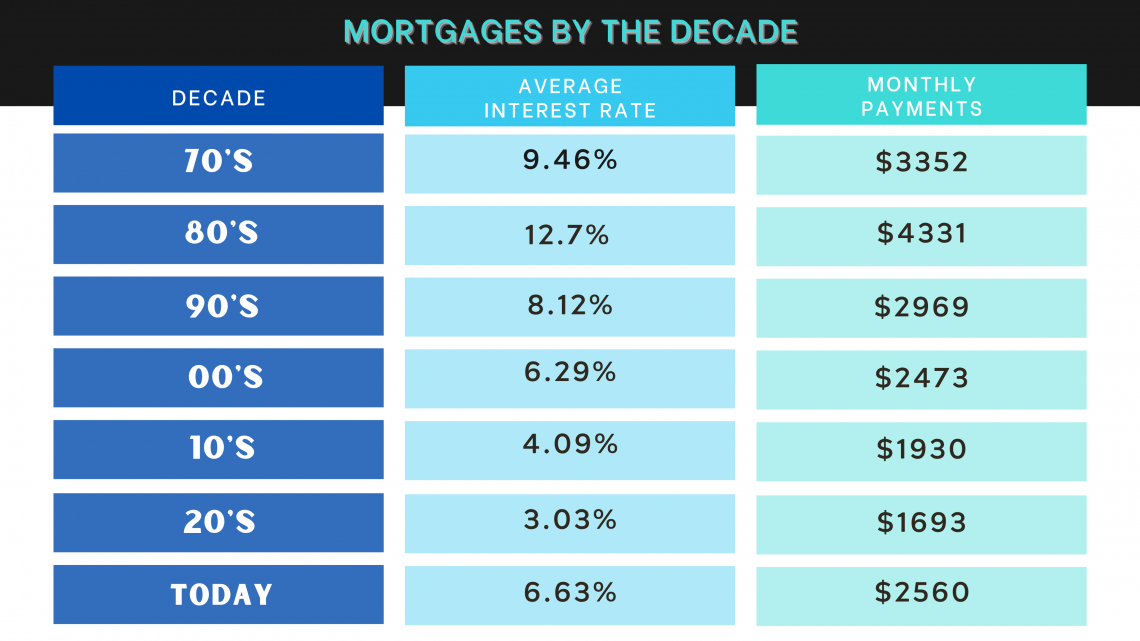 Keep in mind that average mortgage rates are just a benchmark. Borrowers with good credit and strong finances often get mortgage rates well below the industry average. So rather than looking only at average rates, it's worth taking the time to get a personalized estimate and see what you qualify for.
---
Four Things That Help Determine Your Mortgage Rate
Your Credit Score
Credit scores can play a big role in your mortgage rate. Freddie Mac explains:
"When you build and maintain strong credit, mortgage lenders have greater confidence when qualifying you for a mortgage because they see that you've paid back your loans as agreed and used your credit wisely. Strong credit also means your lender is more apt to approve you for a mortgage that has more favorable terms and a lower interest rate."
That's why it's important to maintain a good credit score. If you want to focus on improving your score, your trusted advisor can give you expert advice to help.
Your Loan Type
There are many types of loans, each offering different terms for qualified buyers. The Consumer Financial Protection Bureau (CFPB) says:
"There are several broad categories of mortgage loans, such as conventional, FHA, USDA, and VA loans. Lenders decide which products to offer, and loan types have different eligibility requirements. Rates can be significantly different depending on what loan type you choose."
When working with your real estate advisor, make sure you find out what's available in your area and which types of loans you may qualify for.
Your Loan Term
Another factor to consider is the term of your loan. Just like with location and loan types, you have options. Freddie Mac says:
"When choosing the right home loan for you, it's important to consider the loan term, which is the length of time it will take you to repay your loan before you fully own your home. Your loan term will affect your interest rate, monthly payment, and the total amount of interest you will pay over the life of the loan."
Depending on your situation, the length of your loan can also change your mortgage rate.
Your Down Payment
If you're a current homeowner looking to sell and make a move, you can use the home equity you've built over time toward the down payment on your next home. The CFPB explains:
"In general, a larger down payment means a lower interest rate, because lenders see a lower level of risk when you have more stake in the property. So if you can comfortably put 20 percent or more down, do it—you'll usually get a lower interest rate."
---
Don't let fear or uncertainty change your plans. If you're unsure about where prices are headed or how to make sense of what's going on in today's housing market, reach out to a local real estate professional for the guidance you need each step of the way.
We Can Help You Understand the Numbers
When you're preparing to sell your home, you need an accurate home valuation. Click below and we'll get to work.
Start Here